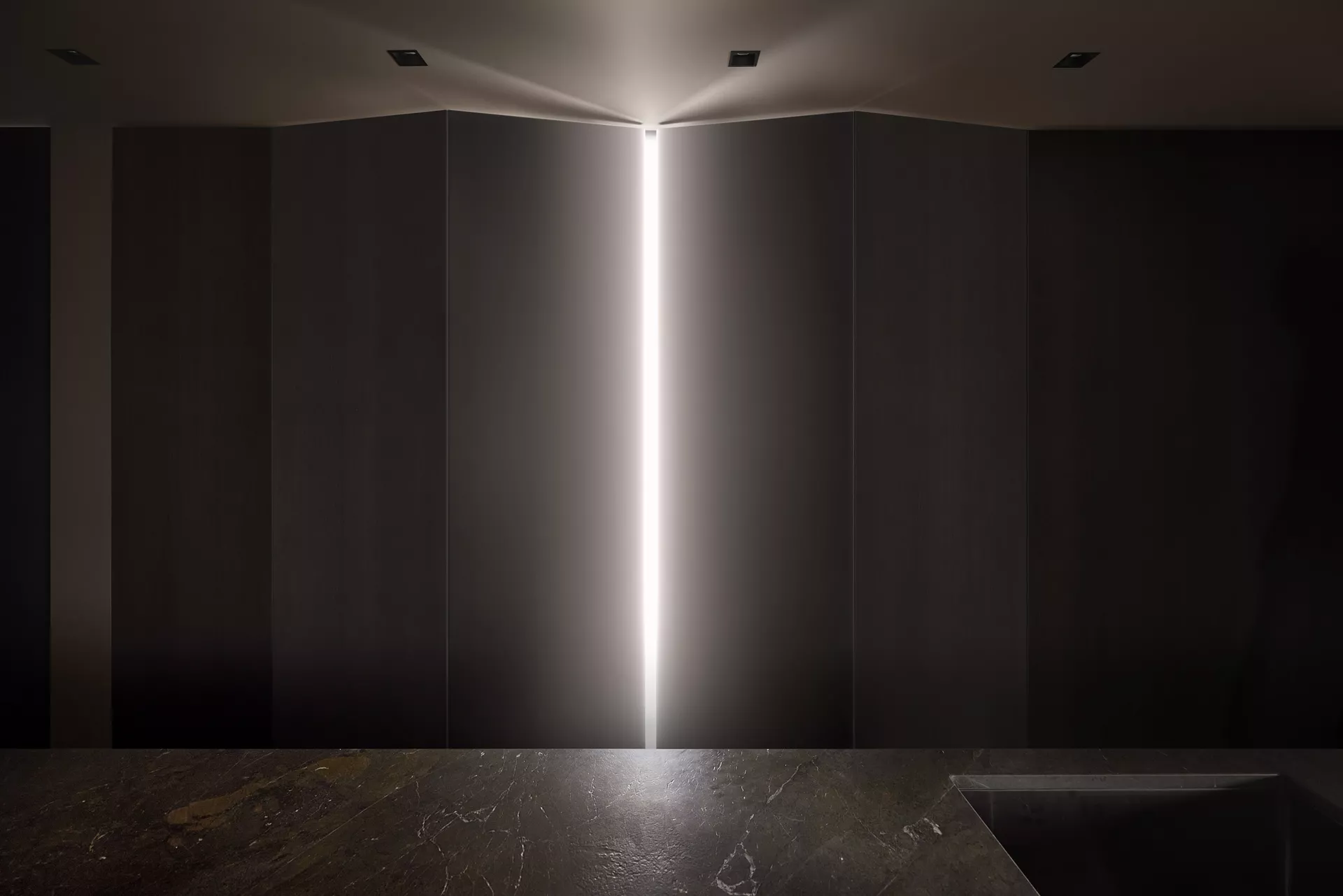 REVEGO
REVEGO is the perfect solution for a flexible use of space that creates new possibilities in the interior design world. This new folding/sliding door system allows a home office, kitchen or even an entire living area to disappear or reappear in no time.
Possibilities
With this brand new product category from Blum, you can literally open the doors to new insights into space utilisation. With REVEGO, Blum offers the ideal solution for multifunctional space utilisation. Whether it is an application with single or double doors, the full overlay fronts of these sliding doors disappear into their own narrow pocket so that when open, they are stored completely out of sight.
Processing
What makes REVEGO so innovative? This pocket system contains all the required components. It is therefore not necessary to take all the parts to the customer separately and assemble them on site. The pocket can be taken to the end customer as a whole, carefully packaged unit. This makes on-site installation much easier. In addition, the fixed pocket widths allow for easy planning.
Maximum comfort of motion
With REVEGO, Blum provides the comfort of motion that you have come to expect. Users will be impressed with the easy handling of these large fronts. Thanks to the integrated TIP-On technology, the fronts can be opened by lightly pressing on them. To close, simply press briefly to release the door from the pocket. The smooth performance of the runner ensures perfect motion.
Ordering options
Like all Blum hardware products, you can order the individual components from us. But of course, we are also adding this new product category to our own pre-mounted service. In that case, we can provide the pockets, the bottom top, the track cover and even the front, fully customised and in the desired colour.
All the above options can be ordered via Blum's online REVEGO configurator (login for Blum's e-services is required. This way we immediately have all the right data to order your package. After entering all the data, you will be sent back to our Van Hoecke webshop and a new shopping cart with the configuration will always be opened. If you wish to order additional items together with the REVEGO, you must add them to this new shopping trolley afterwards.
For the delivery of your order, you can assume the following lead times: Pre-assembled D+15, Package with customised metal components D+10, loose components D+10.
You will soon find the order button at the top of this page or configurator menu of our webshop.