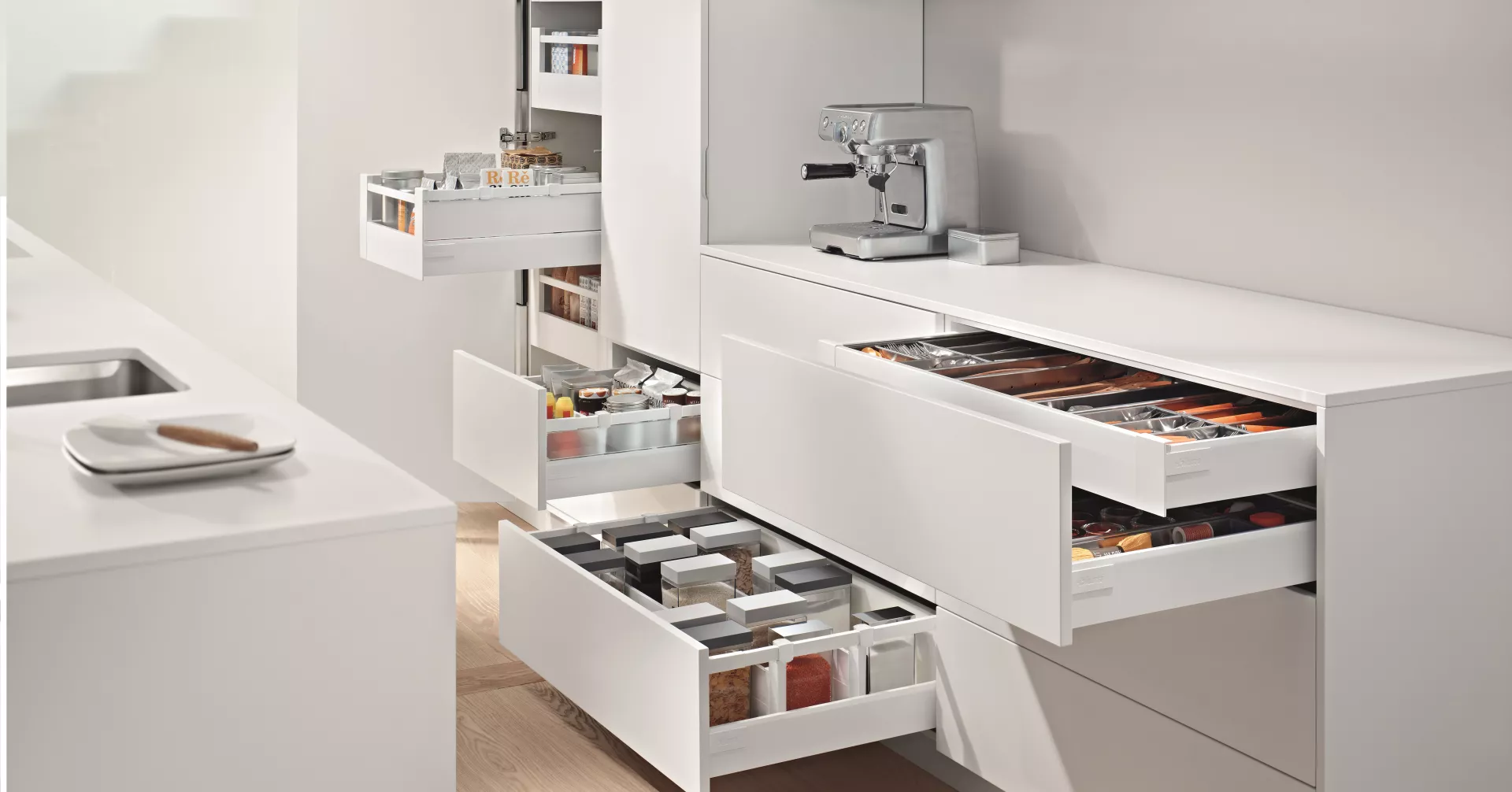 TANDEMBOX antaro
The pure line
The TANDEMBOX antaro box system from Blum is a metal box system which presents a clear-cut, rectangular design. The pull-out is available with a gallery or with design elements to create a closed unit in glass or metal. All TANDEMBOX antaro components are colour-coordinated to underline the pure product design.
TANDEMBOX is available for the following installation heights (mm): 80 (N), 106 (M), 144 (K), 193 (C), 224 (D) and for a nominal length between 270mm and 650mm.
Its advantages at a glance:
A clear-cut, rectangular product concept with a double cranked inner side.

A pure product design with continuous colour concept.

Simple assembly and 3-dimensional front adjustment.
Design
TANDEMBOX is available in Silk white, grey metallic, Terra black and stainless steel. The front fixing of the inner drawers is made of nylon. All nylon components are available in the same colours as the drawer side.
The angular gallery is typical of the pure product design. The pull-outs can be finished with glass or metal design elements.
Order your mounted TANDEMBOX antaro customised drawers now
At Van Hoecke, you can order your TANDEMBOX antaro drawers pre-mounted, completely customised to you and available per piece. Both standard drawers and inner drawers, as well as sink drawers, will be delivered to your address within 3 working days. Thanks to our pre-mounted drawers, not only can you save money, but also time, whilst benefiting from the very highest quality drawers!
Ordering is quick and easy online using our configurator, or by downloading the order form for TANDEMBOX.
Are you looking for sheet material with a perfect colour match to Blum drawer edges? You can download an overview here.
Assembly and adjustment
TANDEMBOX antaro can be assembled without tools in just a few steps. A perfectly coordinated front spacing can quickly and easily be created via the 3-dimensional front adjustment.
Height and side adjustment can be done easily and comfortably via a cut-out in the drawer side. Tilt adjustment can be done via the gallery.
Dividing systems for TANDEMBOX drawers
Installing your drawers in a practical and organised manner is possible thanks to our inner dividing system and kitchen aids for cutlery drawers and pull-outs. For more information on the ORGALUX inner dividing system: www.orgalux.com
Other box systems
Satisfy a wide range of customer needs with the wooden TA'OR BOX drawers from Van Hoecke and the LEGRABOX & TANDEMBOX drawers from Blum. Each line offers countless possibilities: from standard solutions to special applications.