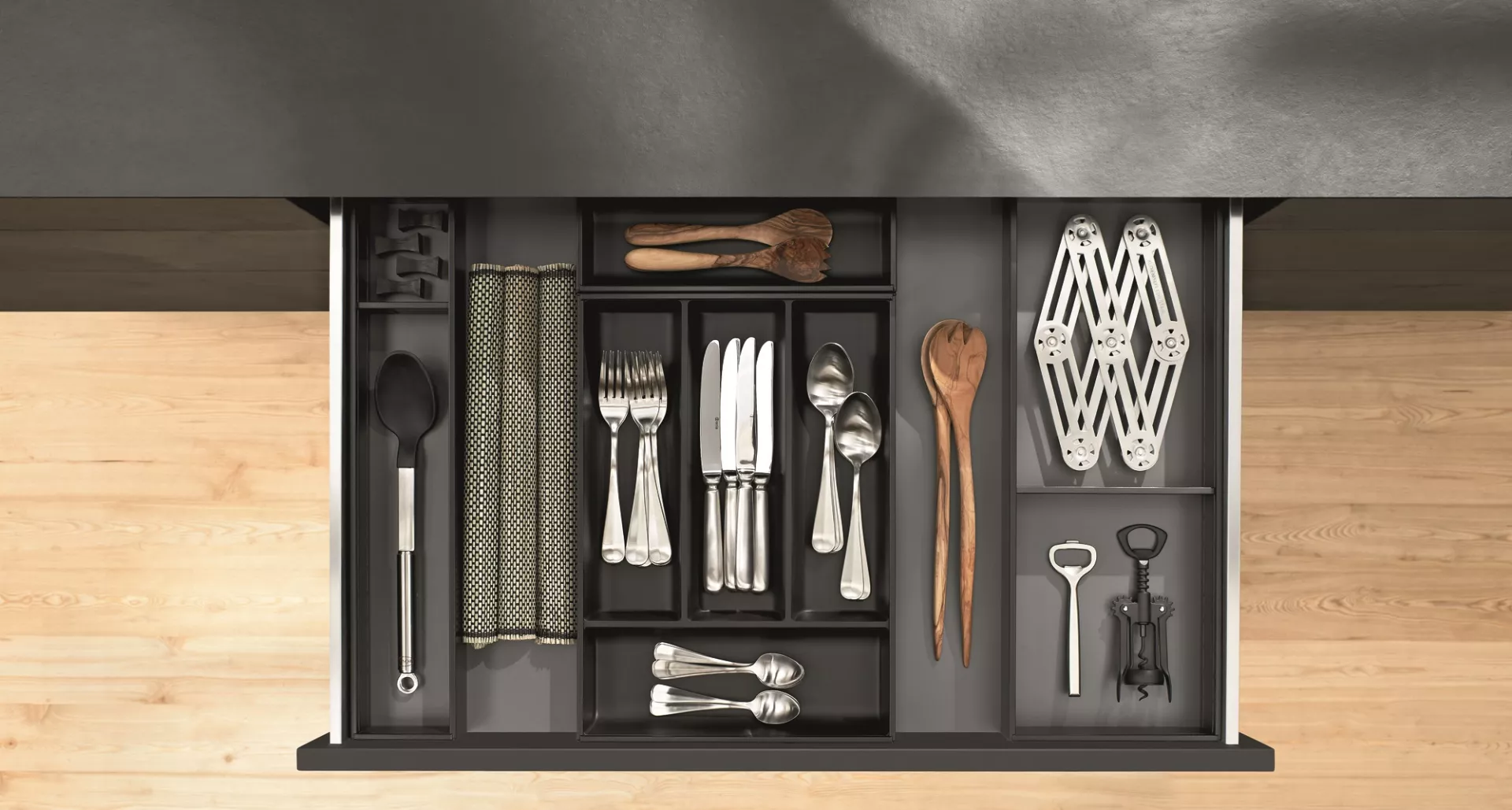 ORGALUX
Order at its best
ORGALUX is a premium product line of inner dividing systems and kitchen aids, with a unique design for any living space. They can be completely matched to your habits and needs, and as such can provide complete flexibility wherever and whenever you need it!
Discover with ORGALUX how tidying up does not need to be tiring or boring, and how you can save time every time.
More time. More space. More flexibility.
A typical kitchen is filled up with around 14 full shopping trolleys of equipment. For an average family of four people, that equates to about 2,100 litres. From provisions, condiments, cutlery and plates, to pots and pans and baking utensils, it is unbelievable what is stowed away in your kitchen.
ORGALUX helps you to get your kitchen organised with a series of practical kitchen aids and inner dividing systems for your Blum drawers. Discover all the handy solutions offered by ORGALUX to organise your kitchen.
Order Orgalux in a click!
We have made it even easier for you to choose from our extensive range of over 9,000 dividing systems. These are then simply added to your order along with your pre-mounted box systems.
After configuring the pre-mounted box systems you can easily add an Orgalux dividing system to your order basket. To do so, click on the button 'Add Orgalux to this box system'. You must then confirm for which room the box system is required and what the customer will use it for. Based on this information and the details of the pre-mounted box system, you will be given a number of specific suggestions from our extensive range, all of which suit the box system perfectly. All that's left to choose is which material or colour fits your project best.
Once you have decided on box systems rather than shelves, the fitting of box systems with the appropriate dividing system is the next step in achieving the modern unit and the ultimate convenience.
You can now achieve this thanks to our handy new function.
More info on how to easily order our Orgalux drawer layouts via the configurator
Orgalux starterpack
Would you like to put the finishing touch to your kitchen projects with Orgalux basics? If so, install one of our starterpacks and it's as easy as one, two, three! Our packages have been developed to fit inside drawers that are 50 cm deep and the finished side edges of all of our products mean that they can be inserted into most of the drawer widths available today.
Orgalux app

We have now integrated exactly the same processing power into a handy app that end consumers can use themselves to order (additional) dividing systems later on. This works by simply scanning the code on the base of the box system. This code tells us all the specifications of the box system.

Do you have clients who wish to order some (more) Orgalux later on? Show them our Orgalux app and they will quickly find the appropriate dividing systems. There is no need to worry about getting the right size or to start remeasuring.

 
ORGALUX beyond the kitchen?

Orgalux also offers the perfect solutions outside the kitchen to organise your drawers entirely to your tastes and preferences. Your dressing room can instantly be made more attractive, and you no longer need to look for your favourite item of clothing or accessory.

The simple washable inner dividing systems are also perfect for use in the bathroom. Create tranquillity in the bathroom and put an end to messy drawers full of make-up and towels. Arrange your shoes tidily in an organised shoe drawer. You can fit far more into the same space using a shoe box system compared to a classic shoe cupboard.

Especially when it comes to storing your most precious leisure equipment, ORGALUX offers countless solutions. For example in this application for photography equipment, you can determine the size of the dividing compartments yourself. A customised dividing system, for every application? ORGALUX gives you the freedom!