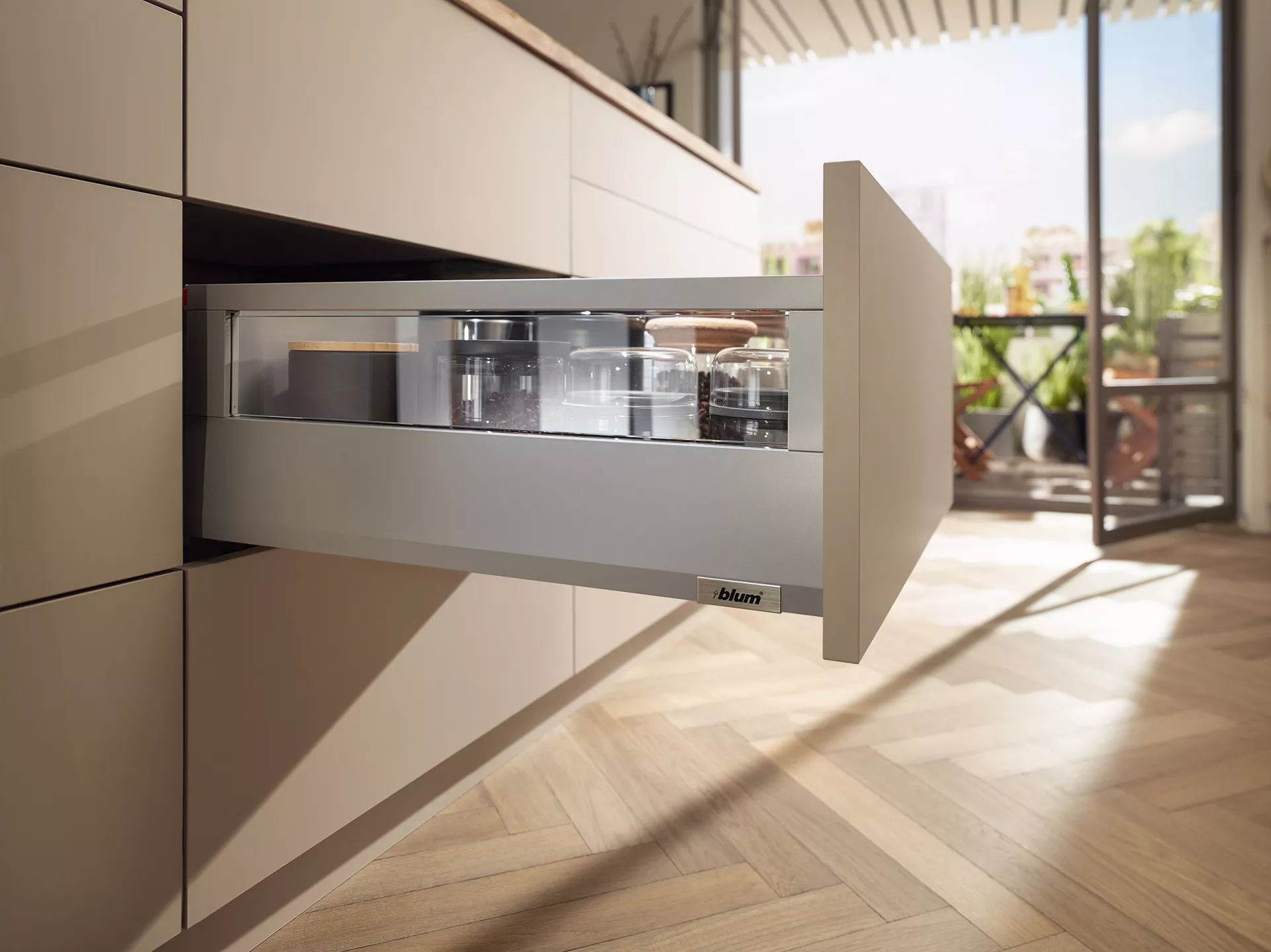 MERIVOBOX
With MERIVOBOX, Blum has added a new metal drawer system to its range. The system is characterised by its straight inside, combined with a decorative line on the outside. But what is particularly striking is the ease of creating a wide range of drawers with just a few components. Because whether you choose a high drawer with gallery, with a glass design element or with a boxcap made of metal, MERIVOBOX can always offer the ideal solution.
Top shelf design
The basis of MERIVOBOX is the drawer side on which you can add various assembly options: MERIVOBOX modular with gallery, with BOXCOVER or with an enclosed metal BOXCAP. The MERIVOBOX drawer is available in silk white, indium grey and orion grey.
As an option, you can choose to add a personal touch on the side of the drawer, by incorporating your logo on the branding element. But even without this element, the drawer side is perfectly finished.
This strong piece of design is supported by a cabinet profile with excellent runner performance thanks to the synchronised feather-light glide. Just one fixing position in height and depth is sufficient for all motion technologies (BLUMOTION, SERVO-DRIVE, TIP-ON BLUMOTION).
High front stability
Both for drawers and pull-outs, the front connection is extremely stable. Even for fronts at cabinet height, no additional stabilisation is needed.

The unique L-shape of the cabinet profile ensures outstanding stability, at a high dynamic load bearing capacity of 40 or 70 kg.
Order your tailor-made MERIVOBOX
At Van Hoecke, you can order your MERIVOBOX drawers pre-mounted, completely customised to you and available per piece. Both standard drawers and inner drawers, as well as sink drawers, will be delivered to your address within 3 working days. Thanks to our pre-mounted drawers, not only can you save money, but also time, whilst benefiting from the very highest quality drawers!
Ordering is quick and easy via our configurator.
Complete MERIVOBOX with Orgalux
To arrange your MERIVOBOX drawers in a practical and well-organised way, you will find the perfect drawer dividers and kitchen utensils for cutlery drawers and pull-outs in our Orgalux range. The range has been coordinated with the MERIVOBOX colours, so you can always find a matching divider.
View here the range or use the Orgalux plug-in in the configurator to select the best matching divider.